Industry Collaboration
Last Updated:
05/10/2022 - 14:03

Graduation Projects
University – Industry Collaboration
The goal of our Department, which was established in 1979, is to educate our students as creative and innovative designers who are sensitive to user needs, and able to utilize opportunities of emerging technologies. Since we believe that education should consider the needs of our country's industry, besides the compulsory internships and industrial field trips, we conduct Graduation Projects in collaboration with various industrial organizations.
What is a Graduation Project?
The graduation project course is the final project course of our curriculum before graduation and has a 12-hour weekly course load. In this course, each student is expected to develop a design project throughout the semester. Besides an expectation for being developed uniquely, and reflecting the student's skills and design approach that s/he has developed throughout education, it is fundamental that the project, is carried out in collaboration with a firm. The reason for this is to provide the opportunity for the student to experience professional practice to some extent before graduation.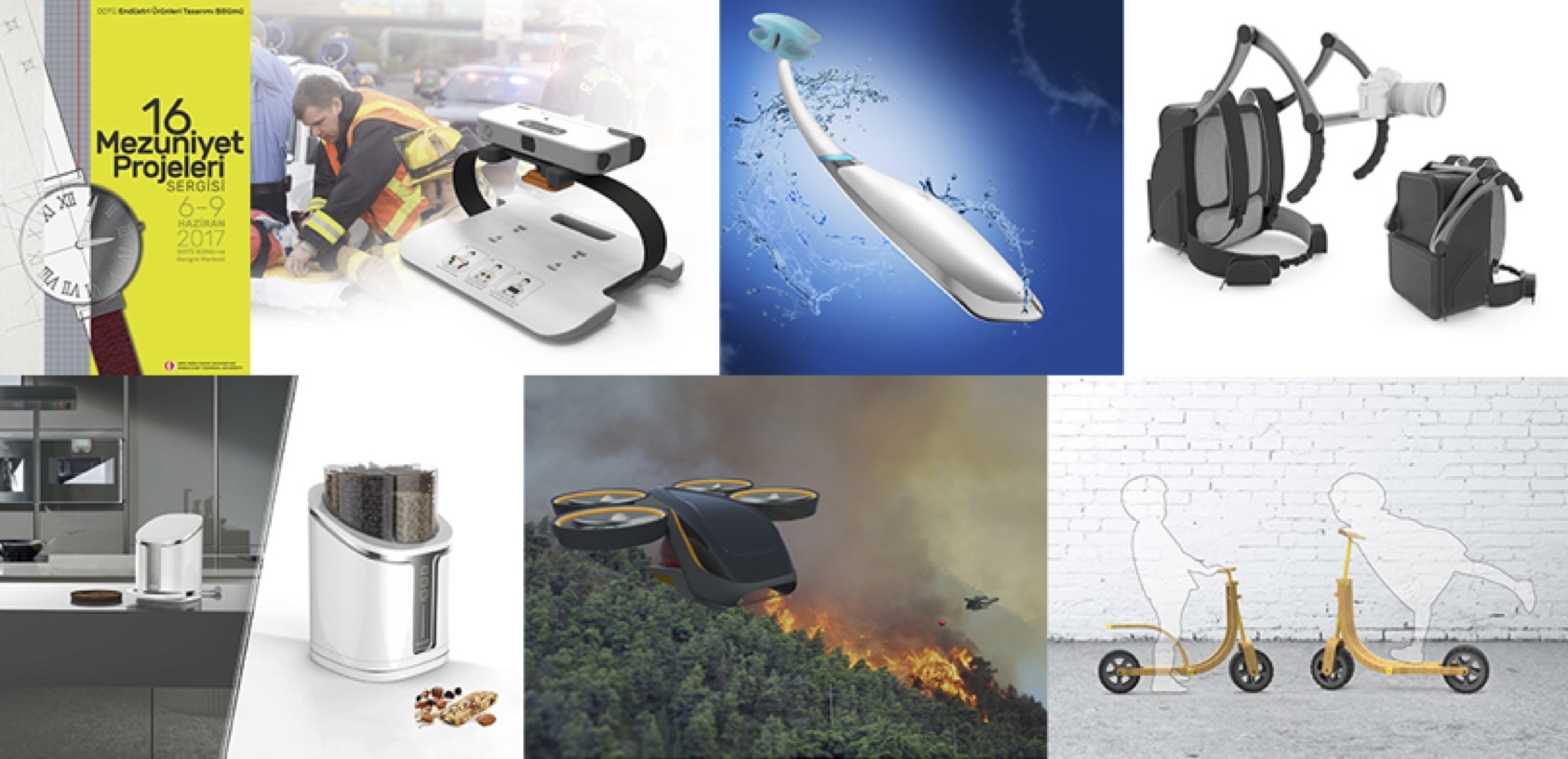 [From top to bottom/left tp right] 2017 Exhibition Poster: Sena Ahsen Zırh; Portable, smart and automatic heart massage (CPR) device for sudden cardiac arrest cases: Hüseyin Uğur Genç (Futerodesign); A smart oral care product that leads users to effective teeth cleaning with a new user experience: Merve Yılmaz (Venn Design); Camera equipment that helps professional camera users to shoot videos for a long time in dynamic settings: Cemre Fidan Tüzün (Edelkrone); Bar maker, offering personalized recipes with its smart system: Alara Bozbay (Arçelik); Autonomous unmanned aerial vehicle to facilitate the response process to forest fire: Elif Ilgaz Gülgeç (Aselsan SST); Dual function wooden toy that helps basic motor development and balance capability for children from 2 to 7 years old (Studio Mu-Ca / Mamatoyz)
Initially students are expected to bring project proposals to a firm, although it is preferred by our Department that firms develop and direct students' proposals, in order that they fit to the subject interests of the firm. With this approach, it is our observation that both parties are able to gain benefits from the collaboration. At the end of the semester, the project is expected to conclude with high quality models/prototypes and presentation boards, and all projects are exhibited to the public in the Cultural and Convention Center of METU. The publicity activity and large number of press releases issued for the exhibition are other issues that have crucial importance for us within the scope of Graduation Projects. In previous years, some of our students received prestigious awards for their graduation projects, including Red Dot Design Concept, iF Concept and Braunprize. In addition to this, selections from the Graduation Projects were exhibited on Tokyo Designers Week, TİM Innovation Week Turkey (Ankara and Istanbul) and METU Alumni Day, broadcasted on radio and television channels; and published in several newspapers and magazines. In 2016, our students' Graduation Projects are expected to attract similar media coverage.
Considering our past experiences and feedback received from firms, we can highlight the benefits of collaboration in graduation projects for firms as follows:
Having an opportunity to get to know future design professionals and evaluate their performances.
Promoting of the collaborating firms, both during the events of the graduation projects exhibition, and afterwards through other exhibitions and publications showcasing the graduation projects.
Being able to observe the various contemporary methods and approaches, as well as idea generation techniques utilized in design education.
Our Principles Regarding Intellectual Property Rights
Based on The Industrial Property Law No:6769 dated 10 Jan 2017, our principles regarding intellectual property rights within the scope of Graduation Projects are as follows:
Graduation Projects are exhibited and evaluated publicly in a way that contributes to all of our students' education. For this reason it is suggested that projects requiring confidentiality should not be considered within the scope of Graduation Projects.
The University, the student and the firm are the mutual owners of the right to exhibit and publish graduation projects. Provided that the University's, the student's and the firm's names are always indicated, the parties are free to exhibit and publish the projects.
Trade secrets (or 'know how') shared by the parties during the process are mutually kept secret.
In job applications, the student has a right to show her/his graduation project to third parties as part of her/his design portfolio.
The student must inform the university and the firm at least 10 business days prior to submitting her/his graduation project to any competition.
Within the scope of Article 73 and 121, of Industrial Property Law No:6769, in case of an emergence of invention, utility model or design as a result of their graduation project study, the students have obligation to inform the university and the university has right to claim ownership on the emerging invention, utility model and design.
The advisor firm has preemptive right to buy exclusive licence of the outputs of graduation project they have been advising. Correspondence related to these issues is made with the university in case of the projects the university claims ownership. In the case where the university does not claim ownership the correspondence is made with the student. The processes related to intellectual and industrial property can be organised at the completion of the project.
With this model we adopt the principle of transfering the exclusive industrial and intellectual property rights to the industrial organisation we collaborate through research projects, graduation projects and courses. Our aim is to transform the resulting inventions and designs into products for public good in collaboration with industry, rather than letting them just to stay as inventions and designs.
Several firms that we have collaborated with in the past have kindly provided additional assistance and resources to students, including model-making or prototyping (where facilities exist within the firm) and travel and accommodation (if the firm is located outside of Ankara). Furthermore, we are hoping that collaborating firms may be willing to support the graduation projects exhibition, graduation projects catalogue, opening reception and related announcements, as has been the case in previous years.
Our Expectations from Collaboration
Our primary expectation from collaborating firms for the graduation projects, carried out regularly since 2002, is expertise support. This support, which usually comprises advice and information regarding issues related to design, production, marketing, and model making, requires 6-10 meetings throughout the semester (which become more frequent towards the end of the semester). These meetings are carried out either by the student visiting the firm's premises, or by the firm's representatives participating at various project presentations held at METU such as preliminary jury and final jury. In addition the process of each student is monitored by studio staff members.
Our institutional priority is for the collaboration to result in an original design project, independently developed by the student in line with the knowledge provided by you. It is important for us to achieve our educational goals that the collaborating firm provides constructive and guiding comments and advice on the student's design decisions, and does not directly intervene with the student's design. If a student presents an idea of drawing belonging to others as if it belong to him/her this would be considered as plagiarism.
Term Projects
For term projects, we dedicate either the whole or part of a semester studio to working with an industrial partner on a negotiated project theme. All students enrolled in the studio course work on this project, either individually or in teams, depending on the scope and requirements of the project. This kind of collaboration usually takes place in the third year or the first semester of the final year of undergraduate education.
A typical process we follow for these projects consists of the following stages:
1. Research assignment: Students conduct research in teams using online and literature sources on certain assigned topics, such as the collaborating firm, competitors of the firm, materials and production processes related to the project, habits and traditions of the users in relation to the product to be designed, futuristic and concept designs in relation to the project, and other topics related to the specific project dimensions. Teams present their findings in the class.
2. Field observation and user research: Students are required to generate knowledge and insight into people's needs, expectations and preferences in relation to the project. They make interviews and observations with target user groups and present the findings in the class.
3. Idea generation workshops: Students develop numerous idea sketches, often with the help of in-class exercises, and select design ideas for further development.
4. Visit to a production plant: Students are taken to a field trip to our industrial partner's manufacturing facilities, in order to observe their expertise, approach to design, and their manufacturing capabilities.
5. Preliminary jury: Students present selected design concepts to tutors and firm representatives using visuals and mock-ups.
6. Project development: Selected concepts are developed further, as students receive critiques on their detailed drawings, computer generated models and refined mock-ups.
7. Final Jury: The finalised project is presented to a jury consisting of tutors and firm representatives, using 2D presentation boards and finalised 1:1 or scaled models/prototypes.