A seminar by Nihal Bursa: "Material Culture of Turkish Coffee"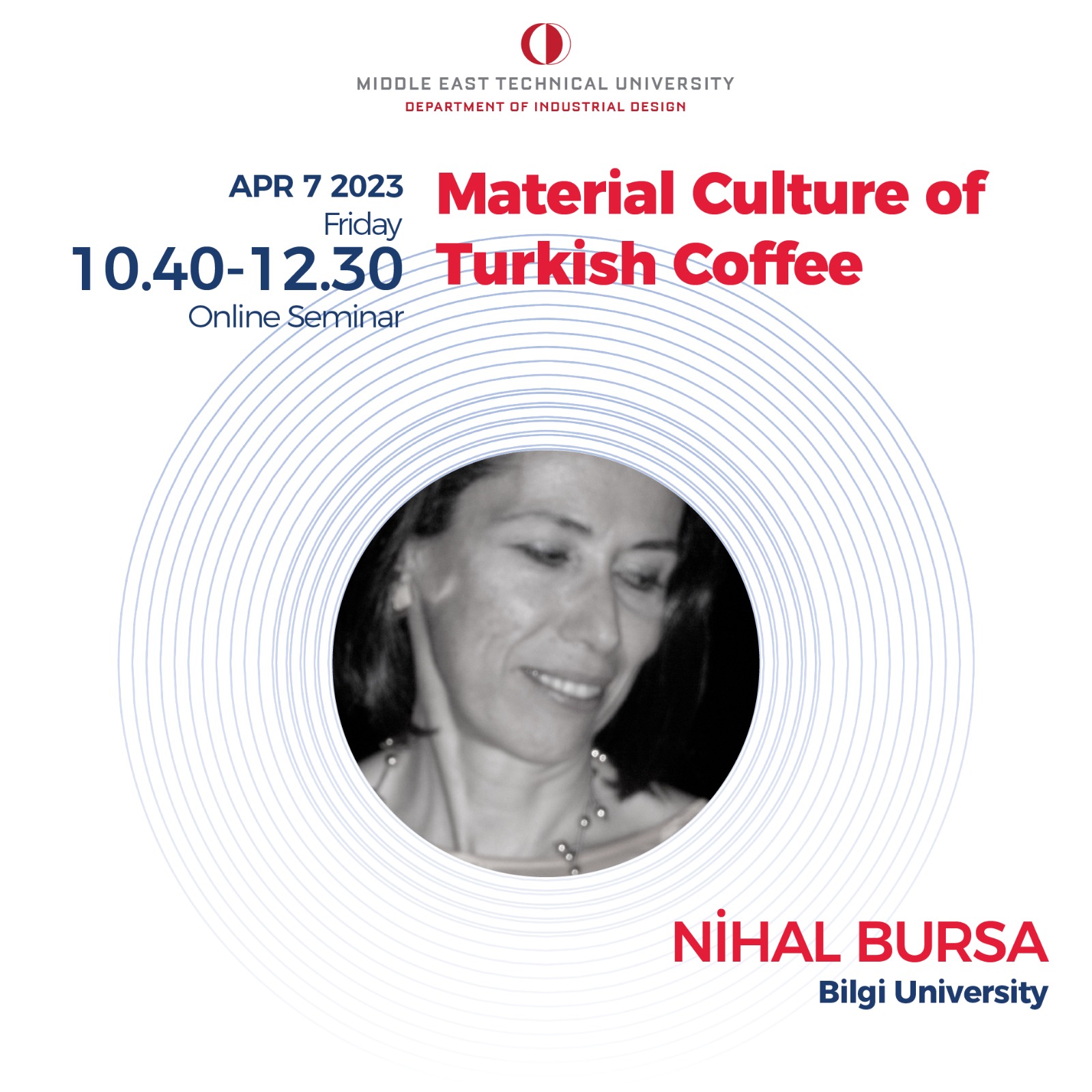 As a part of ID403 Collaborative Design course, Nihal Bursa will give a seminar titled "Material Culture of Turkish Coffee". The seminar will happen online on 7th April 2023, Friday, between 10.40-12.30. We invite everyone interested to join us. For meeting link, please send a message to id@metu.edu.tr.
Nihal Bursa is a graduate of METU-Department of Architecture (B.Arch 1984-M.Arch 1987 –PhD 2003 ) where she served as an academic staff between 1985 and 2009 until her retirement. Her advanced studies included investigating the dynamics of the relationship between architectural practice and patronage.
Her career after retirement continued at Beykent University between 2016-2021, as the Head of Industrial Design Department. She is currently teaching architectural design at Bilgi University, Department of Architecture.
She and her husband have a shared passion to collect all paraphernalia about 'coffee'. Parallel to this, her area of research is extended to material culture of coffee. Their collection is widely acknowledged not only in Turkey but also in selected countries where the following exhibitions have been organized:
- A Drop of Pleasure: 500 Years of Turkish Coffee, Topkapı Place, Istanbul, Turkey, Curated by Ersu Pekin, 2015
- Energizing the Body+ Feeding the Soul: Turkish Coffee, at the Turkish Pavillion, Milan EXPO, Milan, Italy, Curated by Nihal Bursa, 2015
- Coffee: East & West, L.A. Mayer Museum of Islamic Arts, Jerusalem, Israel, Curated by Yahel Shafer, 2021
- Çekirdekten Fincana Türk Kahvesi, Cumhuriyet Park Art Gallery, İzmit, Turkey, Curated by Nihal Bursa, 2021
---
Last Updated:
06/04/2023 - 16:06