Inst. D. F. A. Dalsu Özgen Koçyıldırım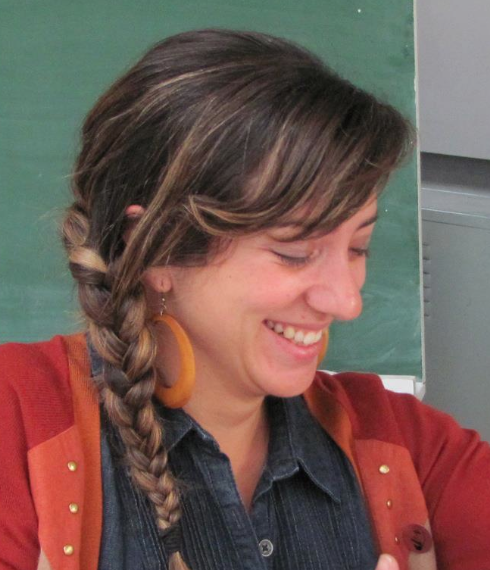 Inst. D. F. A. Dalsu Özgen Koçyıldırım
---
E-Mail: dozgen@metu.edu.tr
Phone: +90 312 210 2242
Room: 41
---
Biography
She received her BFA on Graphic Design from Bilkent University in 2002, her MFA on Design and Technology from Parsons School of Design in 2005 and her DFA on Graphic Design from Mimar Sinan Fine Arts University in 2012. She worked as a designer and animator in various projects in Istanbul and between 2006 and 2009 she worked as a research assistant in Kadri Has University. Since 2009, she works as a lecturer in METU Department of Industrial Design, teaching courses such as Basic Design (the first year foundation studio), Visual Narratives in Design, Graphic Design and Portfolio Presentation. For the 2016-2017 academic year, she joined IIT Institute of Design in Chicago as a visiting scholar. Her main research interests are the place and use of visual communication and visual narrative in industrial design.
Research Interests
Basic Design Education, Visual Narratives, Visual Communication, Time-Based Design, Perception of Motion, Animation
Degrees
PhD: Mimar Sinan Fine Arts University, Graphic Design, Istanbul, 2012
MFA: Parsons School of Design, Design & Technology, New York, 2005
BFA: Bilkent University, Graphic Design, Ankara, 2002
Educational Practice
Basic Design I & II, METU
Visual Narrative in Design, METU
Portfolio Presentation, METU
Graphic Design Studio, KHU
Interactive Multimedia Design, KHU
Publications
Özgen Koçyıldırım, D., Coşkun, A., Bakırlıoğlu, Y. (2015).Time-Based Visual Narratives for Design Education: Proceedings of the 3rd International Conference for Design Education Researchers (pp.1569-1584). Finland: Aalto University
Özgen Koçyıldırım, D., Ünlü, C.E., (2015). Integrating Light to Foundation Course as a Basic Design Element: Emerging Practices, Inquiry into the Developing. Shanghai: Tongji University Press
Arkün Kocadere, S., Özgen Koçyıldırım, D. (2014). Online Communities for Professional Development of Educators: Art Education 2.0. Proceedings of The Anadolu International Symposium on Arts Education (pp.48-53). Eskişehir: Anadolu University
Özgen Koçyıldırım, D., Coşkun, A., Bakırlıoğlu, Y. (2014). Endüstri Ürünleri Tasarımı Eğitiminde Zaman Temelli Görsel Anlatımın Algısal Etkileri: Ulusal Tasarım Araştırmaları Konferansı Bildiri Kitabı (pp.301-312). Ankara: METU Faculty of Architecture
Arkün Kocadere, S., Özgen Koçyıldırım, D. (2014). An Interdisciplinary Student Project on Educational Game Design: The International Conference on Education Proceedings. Szombathely: Savaria University Press
Arkun Kocadere, S., Ozgen, D. (2012) Assessment of Basic Design Course in Terms of Constructivist Learning Theory
Procedia – Social and Behavioral Sciences, Volume 51, Pages 115-119
Akar, E., Turhan, S, Ozgen, D., Coskun, A., & Oraklıbel, R.,D. (2012). Online studio in the industrial design education: the implications of kibis as the organizational communication and knowledge management system. Procedia-Social and Behavioral Sciences, 47, 771-775.
Ozgen D. (2008). Grafik Tasarım Ne İçindir? / What is Graphic Design For?. Twemlow, A. Istanbul: YEM (translation)
Professional Practice
Animator & Illustrator, e-nocta, Istanbul
Animator, Ajans 21, Istanbul
Research Assistant, KHU, Istanbul
Art Director, i-dsgn, Ankara
---
Last Updated:
23/11/2022 - 01:04