Inst. Güner Mutaf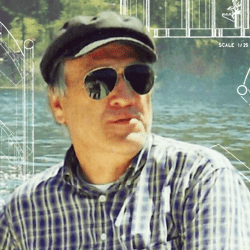 In Memory of Our Teacher Güner Mutaf
Güner Mutaf, one of the two founders of the Department of Industrial Design at Middle East Technical University (METU), passed away on February 13, 2014. His funeral was held on February 15 in Ankara, in the presence of his loving family, colleagues, friends and students. His contribution to our workplace cannot be overestimated.
Güner Mutaf was born in Ankara on June 24, 1947. He spent his high school years in İzmir and graduated from İzmir Koleji in 1964. In 1970, he graduated from METU Department of City and Regional Planning. He completed his graduate studies in METU Department of Architecture in 1973. During his Bachelor's studies, he took the elective 'Industrial Design' courses given by the American designer David Munro, who later supervised his Master's thesis project in which he designed an operation table for hospitals.
He started work as a Research Assistant after he completed his Master's studies. In 1976, he became an Instructor and made contributions to the Faculty of Architecture's Basic Design courses, Industrial Design elective course and summer practices. Commencing in 1974, together with Mehmet Asatekin, he carried out necessary studies for the foundation of METU Department of Industrial Design. Between 1976 and 1978, he worked with Erik Herlov at the Royal Danish Academy of Fine Arts in Denmark, making further preparations for the opening of METU Department of Industrial Design. With the commencement of the undergradute programme in Industrial Design in 1979, he transferred his teaching to this new programme and offered a variety of courses up until April 1985. Between 1985 and 1994 he gave a break to his full-time academic career to focus on professional design practice. His retirement from METU came in 2007, crowning a significant contribution both to the development of our Department and to the education of our students, especially through studio courses, summer practices and Mechanism courses. As an academician who never lost his interest to the practical aspects of design, he developped his own diving equipment, designed musical instruments and made his own catamaran. He worked on design commissions in various fields including technical equipment, street furniture, lighting, and corporate and private interior designs. He designed for firms including Gama Elektronik, Koleksiyon Mobilya, Dokap and was involved in the design of interiors for many corporations including Hilton, Çırağan and Swiss Hotel, both within Turkey and internationally.
Güner Mutaf, an educator who always encouraged his students to analyze the world with the eyes of a designer, and who attracted their attention to design details that no-one else was able to detect, showed practical solutions to problems that on first inspection seemed impossible to deal with. Despite his considerable talents, creativity and intelligence, his character was both modest and humble. He gained the love of his students and collegues with his endless tolerance and unique sense of humor. We offer our most sincere respect and condolences to family, relatives, friends and students following the loss of our dear founding member Güner Mutaf.
The members of METU Industrial Design Department
---
Last Updated:
08/11/2022 - 21:38