Part-Time Instructor Hasan Saltık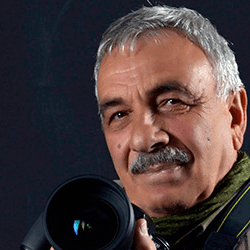 Part-Time Instructor
Hasan Saltık
---
E-Mail: hsaltik@gmail.com
Phone: 03122102219
Room: 428
---
Biography
I was born in 1942. I completed my primary and secondary education in Trabzon. I graduated from Istanbul, State School of Applied Fine Arts, Graphic Arts Department in 1967.
In 1970, I worked at Karadeniz Technical University, Faculty of Architecture. In 1982, I joined the METU Industrial Design Department. In this Department, I gave Basic Design, Photography and applied artistic courses. At the same time, I have given these courses from time to time at Hacettepe University, Eskişehir Anadolu University, Atılım University and TOBB University.
I retired from METU in 2007. I am currently working at METU Industrial Design Department as part-time, giving the course ''Int. to Visual Media''.
I continue to work on Artistic Graphics and Photography.
---
Last Updated:
23/11/2022 - 01:31